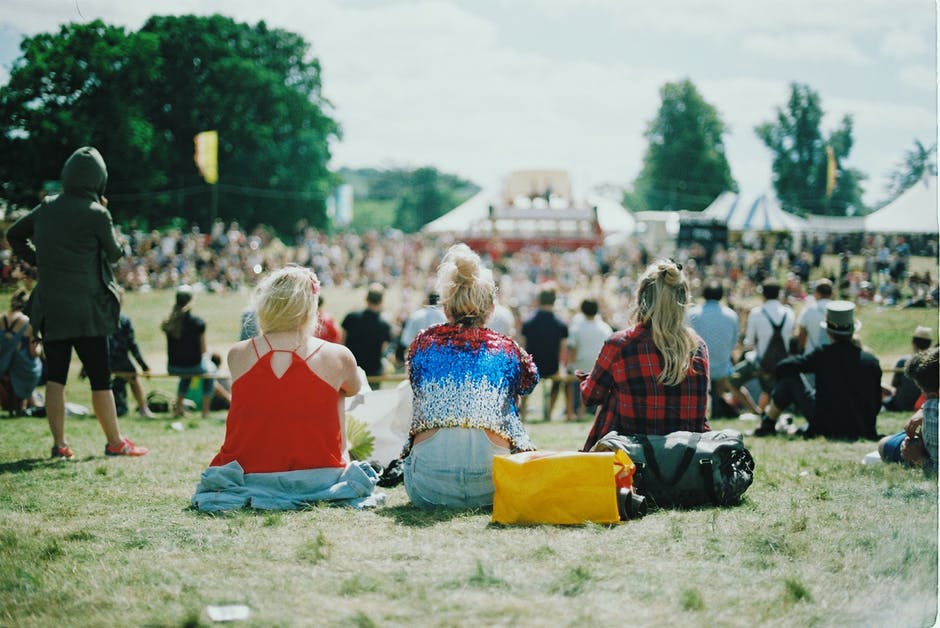 Too expensive. That was the main reason to keep me from going to yoga festivals for a long time. I thought, how many classes can one possibly take a day and how can it ever be worth it, spending so much money? I got the chance to answer my questions and review my doubts when I got invited to Yoga Conference Germany in Cologne. The experience reached far beyond the practice of yoga asanas. In those two days I laughed until I cried and I cried until I laughed again. I hugged strangers and became close friends with people I had known from yoga classes for a while but never really connected with. I sweat a whole ocean, I sang, I danced and slept like a baby – and overall I felt inspired, happy and in love with my life.
Yoga festivals are a special and sometimes life changing experience. I cannot wait to check out the numerous yoga festivals of North America: In summertime there is a yoga festival happening almost every weekend in the United States and Canada. These events can be pricey, yes. But they don't have to be: Almost every festival offers selected classes and side-events for free. Most of them have spots open for volunteers that donate their time to support the festival team in exchange for attending classes for free. So, money considerations shouldn't necessarily stand in the way.
If you are still not sure about whether a day-long yoga celebration is the right jam for you, here my top 5 reasons to at least give it a try.
Relax and Re-new: A yoga festival is an active mini-retreat

If a yoga class can be your mini-break from everyday routines of moving (or mostly not moving) and thinking (or mostly worrying), a yoga festival can be a mini-retreat and your go-to when you need quality-time for and with yourself. You might need time to unwind and relax or space to be inspired and feel alive: Yoga festivals give you both and so much more.
Whether the event is happening in a far away place or right in front of the door: As soon as your feet touch the festival grounds you are entering a completely different world. Everything here is set up to make you feel awesome! Far away from your daily routines and to-do-list(s) all you need is to exhale stress and enjoy the offerings of the program to relax and energize. Yogis are known to be a mostly positive, warm and open community wired to connection, so don't worry to come along on your own or bring a friend if you can.
Summer 2017: Yoga Festivals in the USA

You need a time-out from daily routine and a chance to re-boot your system? You are craving new impulses for your yoga practice and inspiration for your life? You would love to meet a bunch of inspiring people and make new friends? Don't waste a lifetime: Grab your mat and hop on an intense ride of yoga, meditation and music. 

Shakti Fest
May, 12-14, 2017 in Joshua Tree, CA

SoulFest NYC
May 20, 2017 in Harlem, NY

Downtown Yoga Festival
May 20-21, 2017 in Salt Lake City, UT

Wanderlust
June 9-11, 2017 in Snowshoe, WV
June 22-25, 2017 in Bondville, VT

Nantucket Yoga Festival
July 7-9, 2017 in Nantucket, MA


Telluride Yoga Festival
July 20-23, 2017 in Telluride, CO

Beloved Festival
August 11-14, 2017 in Tidewater, OR


August 31 – September 3, 2017 in Floyd, VA


September 7-11, 2017 in Joshua Tree, CA
Learn from masters: Renowned yoga teachers share their personal practices
Yoga festivals usually invite the most renowned teachers from all over the world that have dedicated their lives to yoga. Some of them teach traditional Yoga styles like David Williams who was one of the first Western students of Ashtanga founder Pattahbi Jois in Mysore, India. Some teachers created their own yoga style like Dana Trixie Flynn and Jasmine Tarkeshi (Lotus Flow), Bryan Kest (Power Yoga), David Life and Sharon Gannon (Jivamukti Yoga). Some are known for their physical mastery of yoga poses like the Canadian yoga Goddess Meghan Currey. Others have specialized in the philosophy and mythology of yoga like Alanna Kaivalya.

Where else do we have the opportunity to meet and practice with so many different expert yogis on one day? It is extremely inspiring and motivating to listen to and learn from passionate teachers who live what they are teaching and teach what they are living.
Be inspired, stay inspired: Time to explore and discover new sides of YOU

Most of us in everyday life stick to our one or two favourite teachers and beloved routines without hardly ever trying something new. Yoga festivals are a great opportunity to explore new territory: Most yoga festivals offer a wide range of yoga styles and related topics. The die-hard Power Vinyasa Yogi might discover the bliss of Yin Yoga. The serious Ashtangi may fall in love with the playful Acro Yoga. One might explore mindful and fun "sister" disciplines like aerial yoga, thai yoga massage, dance, hula hoop or parcour. The other might find the time and peace to dig into meditation and breathing techniques.

As much as we need certain routines to save energy, the constant drive on auto-pilot, that many of us so easily get trapped into, can eventually make us feel chronically tired or even depressed. A week-end in the vast and colourful yoga-world is opening the door to step out of our comfort zone: Meeting new people and absorbing new ideas can inspire us to a new perspective on our practice and on our life.
Unity in Diversity: Meet your tribe and celebrate togetherness

Yoga attracts people of diverse cultural and social backgrounds. While the diversity of the community makes part of its beauty, separating concepts of our mind like age, nationality, gender, religious beliefs or political backgrounds dissolve into a sphere of acknowledgement, yet insignificance when you meet in yoga pants.

Breathing and moving together creates a sense of belonging with others around you and really brings the uniting practice of yoga to the forefront. Being present at a yoga festival allows us to celebrate that fact with other like-minded people, from all over the country or even the world, while celebrating the wonderfulness of the practice itself.


Heading to your first yoga festival? This is what you need to know.

* Best deal: Look for Early Bird Prizes OR apply to be a volunteer: This way you are supporting your favorite yoga festival and get to go to classes for free. Yay!


* First come, first serve: Reserve, if possible, or come to classes early and save your spot: Most workshops, especially those of very popular teachers, will be filled and sold out quickly

* Plan your day ahead: Prepare a schedule with favorite classes and one alternative class. That way you can quickly re-schedule if needed, and you still have enough time to go to a different location.

* Plan wisely: It is best to alternate asana classes with physically less demanding classes like meditation, massage or mantra chanting. That way you are less likely to burn out and can enjoy the practice even more.

* Food and water: Don't forget to take breaks to eat and digest. Most yoga festivals cater with delicious vegetarian and vegan meals and desserts. Treat yourself – your body needs the nutrients and hey, this is your quality-time, remember?

* Pack list: You might need to bring your own yoga mat as not every festival offers rental mats. Also: Water bottle, towel, enough yoga wear to maybe change during the day and a cardigan or sweater for cosy savasanas, healthy snacks like fruit and nuts, flip flops for changing locations and public bathrooms, tigerbalm for sore muscles, tampons, since the next drugstore might be far, and a personal journal to note down every spontaneous insights you will probably have


* What to expect: Hundreds of happy and gleaming people in pants or shorts. It can be overwhelming at first but don't shy away: You are one of them. Latest after the first class you will feel it.
* Don't forget: Unless you are practicing aparigraha, Sanskrit for non-greediness or temperance, you might want to bring some extra cash and extra space in your luggage. There will be some stands with tempting yoga wear, ayurvedic oils, yoga books, malas etc…
Wild and free: Wholehearted living outside the comfort zone

It is this open and safe space of acceptance that can open doors you might not have known even existed. Suddenly you catch yourself climbing on a stranger's body in acro yoga as if you were born to do so (most probably your are). You take the courage to try that handstand off the wall and fail in laughter. You gaze into a fellow student's eyes in a partner meditation and don't feel shame for tears running from your own eyes. You sing and dance your heart out at the Kirtan concert and forget that, just a minute ago, "chanting" didn't seem to be your thing at all.

Words cannot describe sufficiently what exactly makes the seemingly impossible possible. It is a heart opening mixture of intense practice and a supporting and warm community that melts away inner limitations and, beyond fear, (self-) doubts and shame wakes a deeper truth of ourselves: We are full of potential. Our life can be ecstatic and adventurous. We are wild and free.
__________________________________________________________
Melanie Lotz
As teacher and student, Melanie is dedicated to the fluid and creative yoga practice of Laughing Lotus NYC. With a background in Modern and Contemporary Dance, somatic education like the Alexander Technique and Traditional Thai Massage, in her yoga classes the German native combines her love for healthy alignment with her passion to inspire a life full of expression, truth and love. Melanie wants to watch you become the most radiant and happy version of yourself.

You can follow Melanie on
www.melanielotz.com
www.facebook.com/melanielotzyoga/
www.instagram.com/melanielotzyoga/